---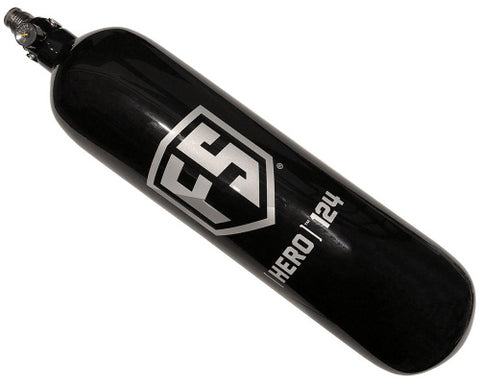 FS Hero 124 C.I. 4500 PSI Carbon Fiber Air Tank
First Strike
---
The First Strike Hero tanks are 30% lighter than standard Carbon Fiber wrapped bottles and feature the all new FS Hero regulator which has the lowest profile on the market. With the lighter material and the smallest regulator, these tanks are officially the smallest and lightest in the industry!

The FS Hero regulator features a magnetic, rotating brass collar that is adjustable by hand. No tools required! The rotating brass collar allows the player to rotate the tank when mounted on the marker so the fill gauge can be in the players desired position.

The UN ISO certification is such a high standard that these bottles will last a lifetime! Say goodbye to the standard 15 year life of most carbon fiber tanks, these guys will never go bad. They still require a hydro test every 5 years just to be safe but in the end these tanks will save the player loads of money and will keep their value.
Features
30% lighter than standard carbon fiber wrapped tanks 
4500psi
5 year hydro
Tri-Label UN ISO approved
Lifetime Use
---
More from this collection