---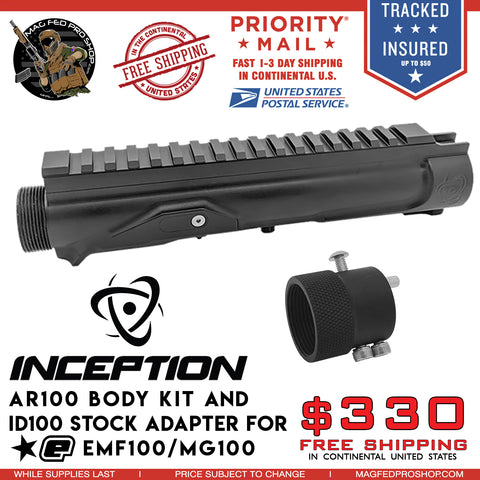 AR100 Body kit for EMF100/MG100 BUNDLE
Inception Designs
---
This is an AR100 Inception Body kit for the Planet Eclipse EMF100 (formerly known as the MG100). This was developed in conjunction with Planet Eclipse and will maintain your full warranty when installed on your gun!

Order is for Body kit only. Images of full guns or with optional accessories are just for reference.

It is a quick and easy bolt on replacement for the stock body (It replaces the GRN EMC external sleeve and the internal aluminium core). The body kit comes with detent covers.

The AR100 Body kit allows the use of "real steel" front shrouds and with the use of the stock adapter (sold separately) you can also use any stock that has a threaded tube using 1 3/16-16 TPI threads. This is the thread used on most "real" stocks.

*Assembled marker is shown with optional accessories.
---
More from this collection