---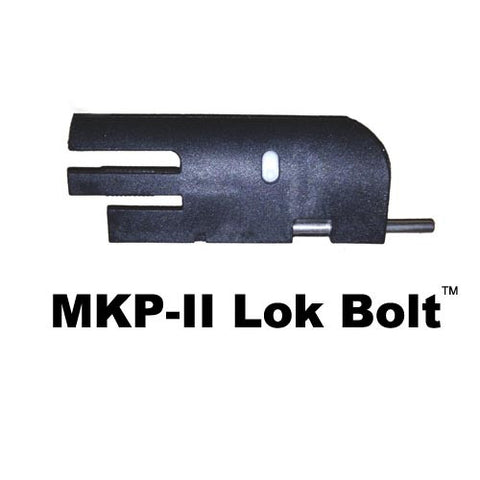 Tacamo MKP-II Lok Bolt
Real Action Paintball
---
The MKP-II Lok Bolt™ is the ultimate upgrade for your Tacamo conversion kit, improving its reliability with a completely mechanical, very clever bolt hold-open device. Your magfed experience will never be the same after you upgrade with the Lok-Bolt™.
In the early days of magfed design, the markers were plagued with chopping—the paint would only partially seat in the chamber before the bolt came forward again, pinching the ball and "chopping" it in the chamber. This plagued almost every magfed design—and markers with gravity-feed hoppers as well—until we developed the Lok Bolt™.
Initially available only for our award-winning T68 and the all-new 468, the Lok Bolt™ is now available for the MKP-II Magfed Conversion Kits as well!
The Lok-Bolt™ is one of the most innovative designs in the industry. It provides a purely mechanical solution to overcome that "chopping" phenomenon, and it works in all weather—there are no lasers to fry, no batteries to drain, no fragile circuits to baby… The Lok Bolt™ is purely mechanical, and built tough enough to thrive in scenario paintball. That makes the Lok Bolt™ a must-have feature for military units conducting force-on-force training, and for recreational paintball players alike!
SHIPS with 2-3 Day USPS PRIORITY Mail
---
More from this collection