---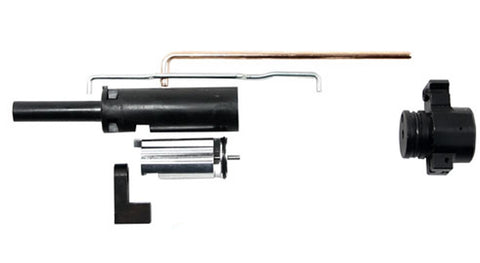 Storm Flexi-Air Kit
Real Action Paintball
---
This amazing upgrade replaces your bottomline ASA and steel braided hose with a much better solution: a rear-mounted ASA and an internal air line. With the Storm Internal Air-Through Upgrade Kit, you can attach an HPA or CO2 tank directly to the rear of your marker...
...or you can attach your choice of air-through stocks! When you use the Storm Internal Air-Through Upgrade Kit to run a remote line to the rear of your receiver, as when using a RAP4 air-through stock, you will dramatically decrease your marker's weight and increase its responsiveness in your hands!
See that tank hanging off of your opponent's bottomline ASA? It makes his marker a bigger target for you to hit. It slows him down as he raises his marker to shoot. And it doesn't look realistic at all. So let your opponents keep their tanks hanging off their grips...you've got a much better solution with the Storm Internal Air-Through Upgrade Kit!
This kit includes all the pieces required to adapt your Storm (Tippmann 98, US Army Carver 1, Operation Salvo, Alpha Black, or BT-4) to an air-through configuration! Check the video tutorial on this page for easy installation instructions, and upgrade your marker today!
Key Features:
- Lightens your marker
- Enables easy air-thru-stock attachment
- Increases realism
- Easy to install
Packages Includes:
1 x Power Tube
1 x Connecting Rod
1 x Power Tube Air Valve
1 x Tombstone Cover
1 x Air Through Pipe
1 x End Cap Air Source Adapter
---
More from this collection